Thank you for your interest in our organization.
Annual Membership Dues are established based on the number of rental units:
There is a one time $35 setup fee – new or lapsed members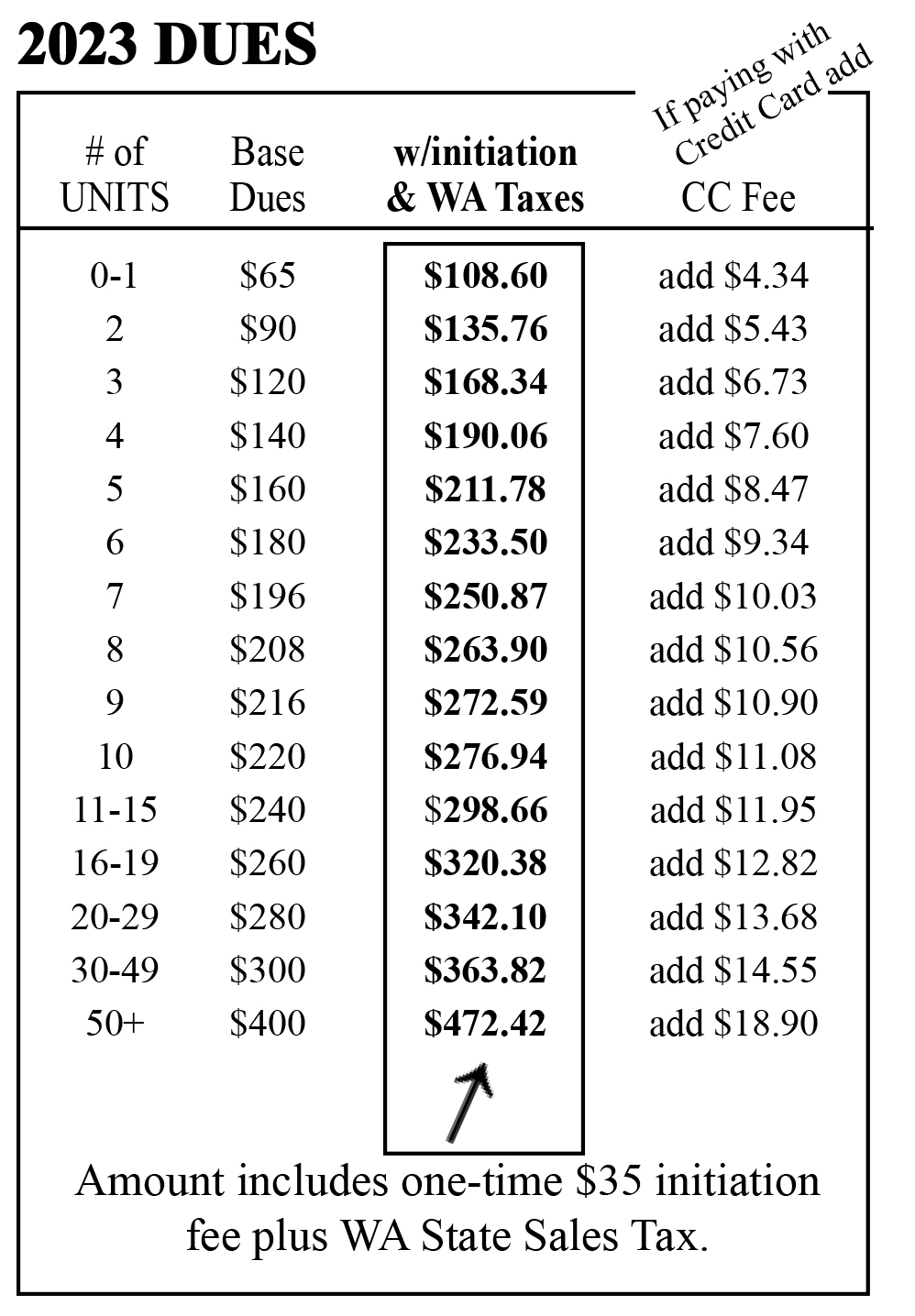 To become a member download the RAWV Application.
Pay by credit card (please add convenience fee — see Dues Grid)
or by check made payable to:
Rental Association of Wenatchee Valley

Mail to: P.O. Box 554, Wenatchee, WA 98807
To expedite your membership application, you email the Administrative Assistant at rawv554@gmail.com
Member Benefits:
Meetings – Membership Dinner meetings are held five times a year. It's a great way to meet other landlords and managers to share ideas and ask questions. There is time set aside after every meeting to ask board members rental management related questions.
Educational Programs – At many our membership meetings an educational program is arranged. This is an opportunity for our members to discuss their problems, concerns, and to meet other members in a relaxed social setting.
Newsletters – Our newsletter includes timely articles of general interest written by authorities in the rental industry. (Ten per year, no newsletter for December and August.) Always available with password on website — new in 2023, Pink Printed Newsletter will only be mailed in months with Membership Meeting (January, March, May, September, November). Email link to online newsletter will be mailed every month.
Legal Services – Limited free legal service plus reduced legal fees for members.
Screening Services – New privacy laws require Landlords to be a member of an Association like ours to do background checks on applicants. The Rental Association of Wenatchee Valley works closely with MOCO, Inc, a Seattle-based credit/criminal research company. This simplifies enabling our members to obtain screening reports on prospective tenants.
Rental Forms – Updated forms are available online to help you remain compliant and help your business operate smoothly and more efficiently. These forms are updated as needed as legislation changes. Includes over 30 forms needed from occupancy to move out and eviction forms. It is recommended that you download the forms each time you need them, as they may have changed. (You will need to use your membership password. This password changes every year, so be sure to keep your membership current.)
Associate Commercial members – Offering you a selection of local services and retail products, sometimes discounted.
Officers and Directors – Volunteering their time and talents to be of service to you.
WLA Membership and Legislative Representation – Your membership to RAWV includes membership to the Washington Landlord Association. Your interests are served on vital issues by our State Legislative Lobbyist. The need for representation on laws affecting the rental industry is a constant concern of our Association.
Seminars – Subjects regarding investments, fair housing issues, drug labs, customer service, etc. given by professionals and offered at nominal cost to you are organized by our state group once a year.
Trade Show – Held annually with the state seminar.
Advertise Your Vacancies – Share vacancy information on the RAWV.org website. To see current listings, click here.
(If you are a member of RAWV and you let your membership lapse, you will be required to pay $35 fee when you renew, to cover costs of re-establishing your account)
A United Voice – There is strength in UNITY!
 Partnership Policy
 The Rental Association of Wenatchee Valley is a non-profit organization made up of member landlords and property managers. The organization as an entity is not in a position to partner with housing program providers. However, our board and/or appointed members might participate in discussions and educate our members about any such programs so they may determine for themselves if they wish to participate.